"You cannot bear the weight of this calling in your own strength, but only by the grace and power of God. Pray therefore that your heart may daily be enlarged and your understanding of the Scriptures enlightened. Pray earnestly for the gift of the Holy Spirit."
The new Ministerial Development Review (MDR) now takes into account guidance from the Covenant for Clergy Care and Wellbeing, as well as a review of practice in other dioceses, and we have also taken the opportunity to tailor the review around the Ordinal vows.
The purpose of MDR is to help you consider and review the ministry which you exercise. It helps us to deepen relationships and mutual accountability. All of this is done within a larger vision of the sheer covenantal grace of God. The intention of this process is to affirm, reinforce and refresh the ministry and faith of all those who undertake this process.
As you will see from the structure outlined below, the MDR is now a 3 year cycle with a fourth year 'fallow' before starting the cycle again. Whilst there will be a formal response from the Bishop in year 3, this is of course in addition to the normal pastoral contact that exists between our Bishops, Archdeacons and Clergy (and should not prevent you from contacting any of them when needed).
Our prayer is that you will find this process affirming, and that it will encourage and help you in your vocation and ministry. We welcome feedback and comments, especially as we launch this new process, so please do be in touch with Ce about this.
Structure of the Process
Annual activity on a three year cycle (with one year 'off' between cycles):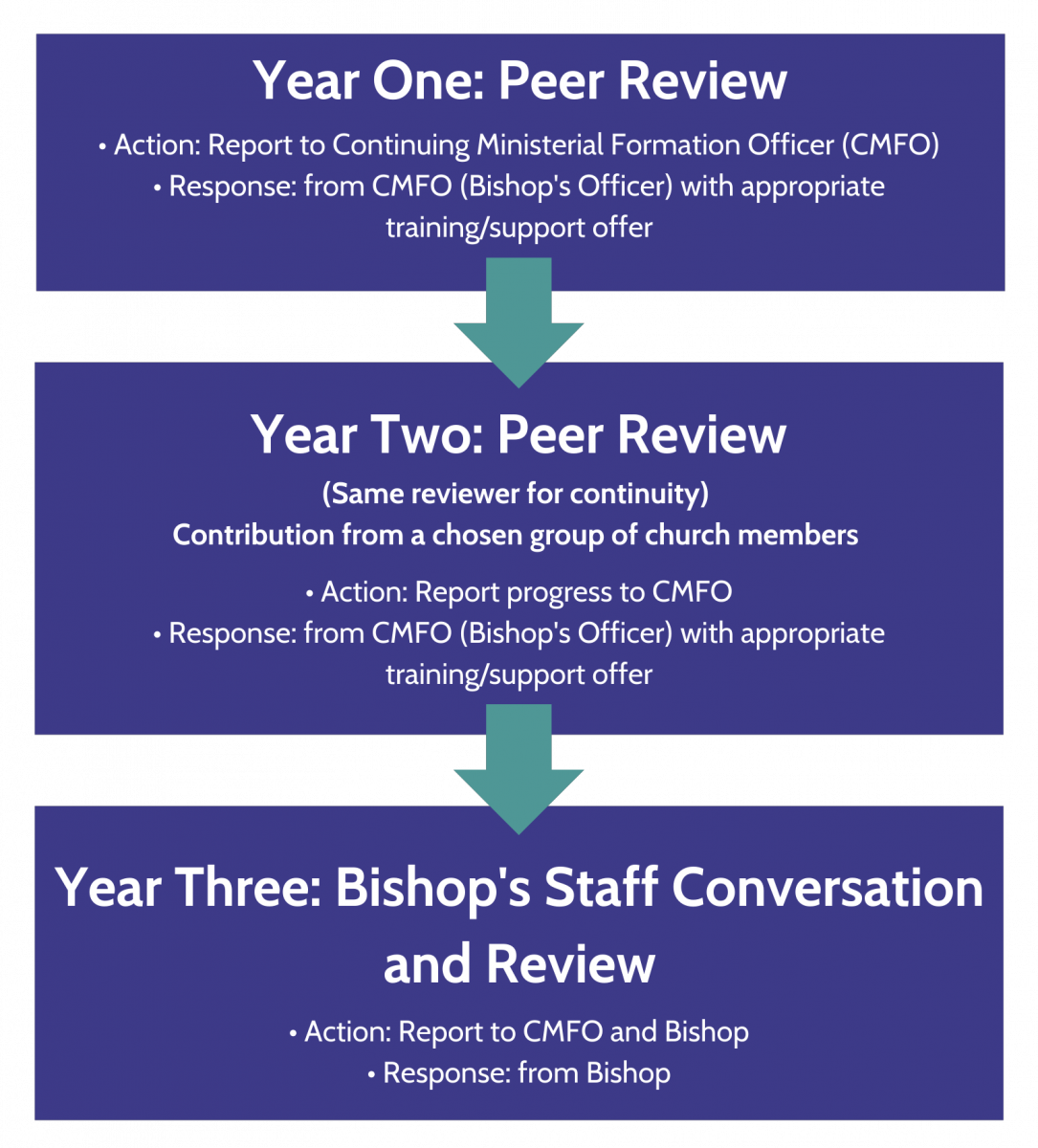 This allows for a 'lighter touch' more regularly – the hope is that reflective practice becomes more embedded – part of 'what we do.' Pastoral supervision and reflective practice become the norm. The MDR will be part of this (the offer of pastoral support will include mentoring, coaching, companionship, training opportunities).
The MDR reflective activity becomes bitesize, not left dormant for (at least) two years, and therefore a part of everyday praxis.
It is key that there is a meaningful response – requests for training and support will be followed up in a timely and useful way – it is the CMFO's responsibility to 'close the loop.'
Following the three year cycle there is one 'fallow year' (unless the Bishop's Staff conversation suggests a move or new challenge) with no expected process although continued reflective practice is encouraged, then start the cycle again with a different peer reviewer.
Downloads
Part A Review Questions for Reflection
Part B MDR Report (Return to Ce Pacitti)
Template Form for Commentators