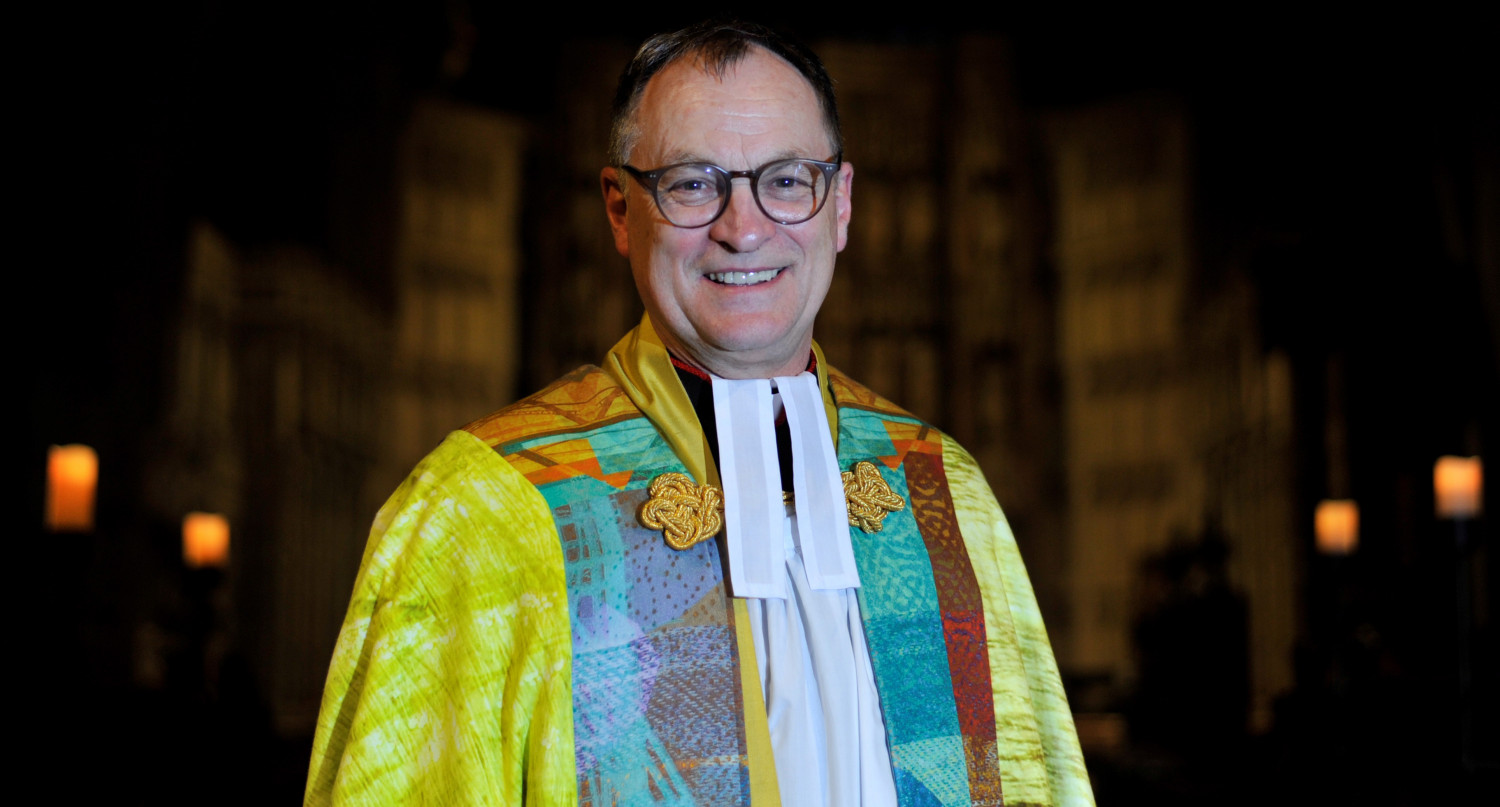 The Very Revd Geoff Miller was installed as the Dean of Newcastle in October 2018.
In his own words, Geoff shares his coming to faith story.
My story is one of constant surprise and privilege but above all GRACE. I was born the third of four children to a gritty family eking out a life on a tough housing estate in Manchester. A father whose career progressed from pit lad to window cleaner, sometime boxer to bus conductor and on reaching his early thirties following bouts of ill health became a recipient of long-term incapacity benefit. A mother who, imbued with the spirit of lioness, learned the hard way to protect her young and hammer out a wisdom for living.Money and material goods were scarce but that never extinguished a zest for life and a natural love of people, a sense of fun and a good dose of unsentimental love.

In my early childhood my family found faith or perhaps, it found them. It was more than the rousing of the community activist in my mother, determined that local children should have a better community life, or the sense of purpose that my father found in the trust and care of the young curate who was busy church planting 60s style on our estate. It was a profound, life transforming faith that at its best changed betting slips into furniture for our house and beer into food on our table. In no time, I owned faith for myself, and subsequently was nurtured in a good Catholic tradition. Aged 15 I came away from a parish retreat to Mirfield somewhat mesmerised by the liturgy, enchanted by the holiness I perceived around me, and, crucially, convinced that I sensed a calling to the ordained ministry. It was no easy path to set out on: mine were not the usual breeding grounds of clergy, never mind Archdeacons or Cathedral Deans!
I left school to train as a teacher but college gave me more than a professional qualification. Through the work of the Christian Union I also found a new experience of Christian life; an enthusiasm for evangelism, a love of scripture, and an experience of the warmth of the Holy Spirit in my life. Then I taught for three years at an excellent comprehensive school in Leeds - RE as well as a spot of Drama in lower school.

St Johns College Nottingham seemed the obvious choice for ordination training. I was attracted by its energy and engaging style, its integrated pastoral course, its ability to let people think for themselves and perhaps above all, it seemed to be at the cutting edge of the emerging church. I left to serve my title in the Jarrow Team Ministry - a modern Catholic parish with an experience of charismatic renewal. I moved on to a Team Vicars post in Billingham with responsibility for an estate church a bit down on its uppers. They were heady days of youthful energy and drive. With the encouragement of Bishop David Jenkins and Margaret Kane I took up the offer of a sabbatical in France with the Mission Populaire dEvangelique. It re-awakened my passion for justice (or perhaps it found new focus) and I returned to Durham as Urban Officer to lead the diocesan response to the Faith in the City Report. My appointment to Darlington Parish Church four years later was a new direction allowing me to engage with a larger professional congregation and work alongside a church and its people as it reflected on its context and role as a church on the marketplace. All of this was good preparation for the Residentiary Canons post in Newcastle. In 2005 I moved across the chancel to occupy the Archdeacons stall ,a role that I have enjoyed most especially because of the real and supportive contact it brings with Clergy, Churchwardens and parishes as they are about their daily faithful business.

In following Christ, I have sought always to reject a sentimental faith that craves spiritual escapism and rather to roll up my sleeves and work alongside those who graft to build the Kingdom. It is a privileged task in which I have already had the joy to witness grace, grace in abundance.
The Dean of Newcastle is based at Newcastle Cathedral. Click here to find out more about our beautiful cathedral.