---
NEWCASTLE HOSPITALS NHS FOUNDATION TRUST CHAPLAINS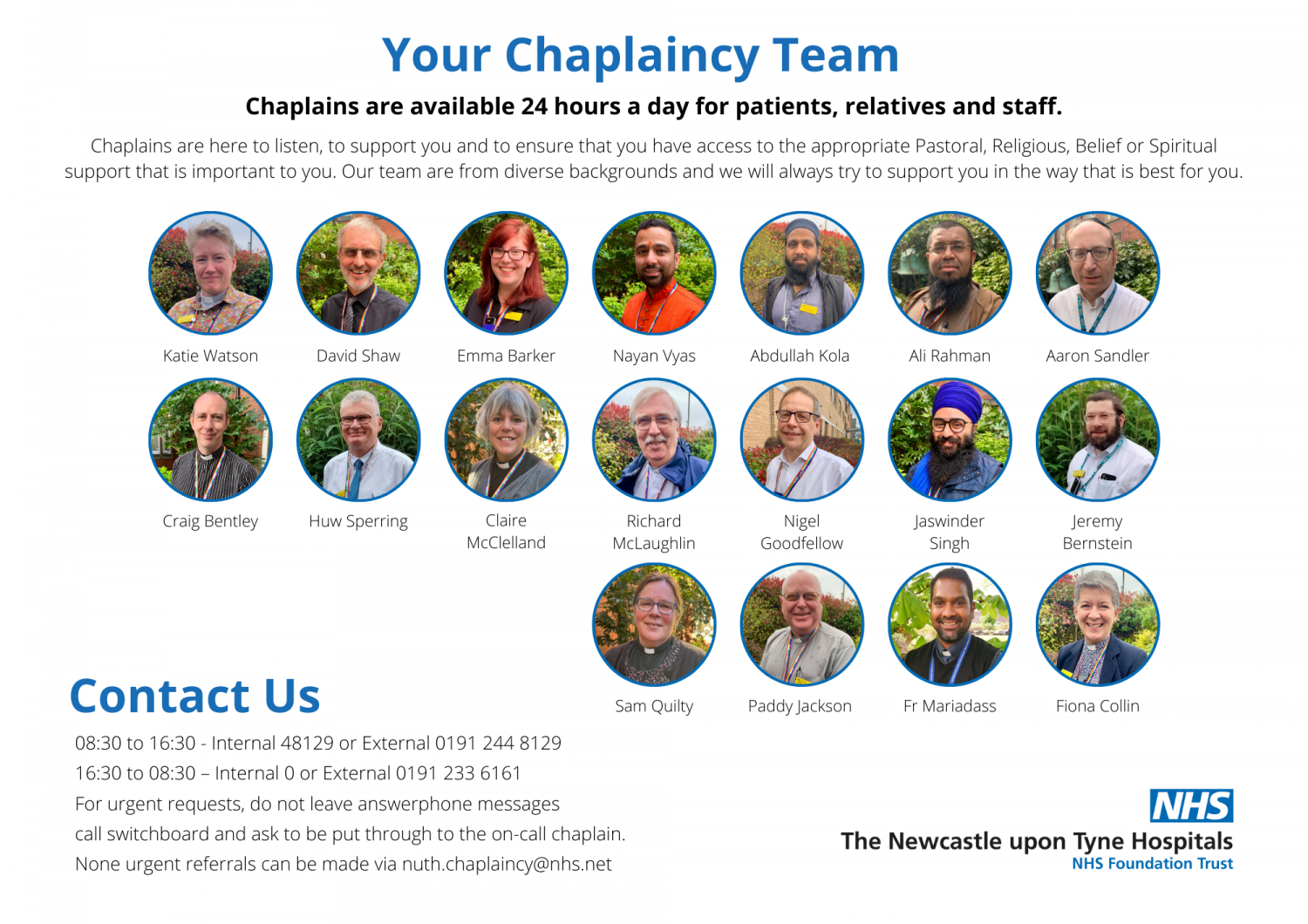 Chaplains are here to listen, to support you and to ensure that you have access to the appropriate Pastoral, Religious, Belief or Spiritual support that is important to you. Our team are from diverse backgrounds and we will always try to support you in the way that is best for you. The services provided by the Chaplaincy service are available to those who require them, at any point during a patient's hospitalisation and care, to their family members and to any member of staff working in the Trust.
Who we are
Head of Department: Rev'd Capt Katie Watson
Chaplains working across the Trust:
Mrs Emma Barker
Rev'd Craig Bentley
Mr Jeremy Bernstein
Rev'd Fiona Collin
Rev'd Nigel Goodfellow
Rev'd Paddy Jackson
Imam Abdullah Kola
Fr Mariadass
Rev'd Claire McClelland
Rev'd Richard McLaughlin
Rev'd Sam Quilty
Imam Ali Rahman
Mr Aharon Sandler
Rev'd David Shaw
Mr. Jaswinder Singh
Rev'd Huw Sperring
Mr. Nayankumar Vyas
Contact us
To get in touch with a member of our chaplaincy staff you can:
Ask a member of staff to contact them on your behalf.
Contact the on-call Chaplain yourself directly on 0191 244 8129 (8.30am to 4.30pm).
Ask our Switchboard staff on 0191 233 6161 to telephone the on-call Chaplain for you (4.30pm – 8.30am).
For non-urgent referrals only, please email nuth.chaplaincy@nhs.net
MARIE CURIE HOSPICE, NEWCASTLE
Chaplain – Reverend Katy Francis (Anglican)
Katy works Monday to Friday 8am -4pm and some Sundays (whole time)
To contact Katy please call 0191 219 1000 or email her on Katy.francis@mariecurie.org.uk
---
NORTHUMBRIA HEALTHCARE NHS FOUNDATION TRUST CHAPLAINS (

covering general hospitals within North Tyneside and Northumberland

)
Switchboard for General Enquiries and to be connected urgently to the on-call duty chaplain: 0344 811 8111
NON-URGENT REFERRALS TO CHAPLAINCY TEAM
Please make all non-urgent referrals to chaplaincy by telephoning:
Direct Line: 0191 607 2270 (The Northumbria Emergency Care Hospital, Cramlington. Chaplaincy Office)
email: chaplaincy@northumbria-healthcare.nhs.uk
Please remember Chaplains may have to cross sites or come in from outside the Trust especially between 16:00 and 08:00.
Chaplains serving across the Trust are:
Chaplaincy Team Leader
Revd Graeme Harrison Tel: 07920412493
Chaplains serving across the Trust within / across different hospitals:
Revd Elizabeth Brown
Revd Robert Muir
Fr Sebastian Thekkeyil
Revd Dorothy Robinson
Revd Chris Clinch
Revd Liz Edwards
Mrs Janice Robinson
Revd Andrew Patterson
Revd Alan Hughes
Revd Neil Wilson
Revd Stephen Boulter
Chaplaincy Office contact numbers:
The Northumbria Emergency Care Hospital, Cramlington: 0191 6072270
Wansbeck General Hospital: 01670 529690
Hexham General Hospital: 01434 655075
North Tyneside General Hospital: 0191 2934268
---
CUMBRIA, NORTHUMBERLAND, TYNE AND WEAR NHS FOUNDATION TRUST
St George's Park, Morpeth (SGP)
Northgate Hospital, Morpeth (NG)
St Nicholas Hospital, Gosforth (SNH)
Campus for Ageing and Vitality, Newcastle (CAV)
Walkergate Park Hospital, Newcastle (WGP)
Ferndene Children & Young People's Centre, Prudhoe (FD)
Community Mental Health Services across the whole diocese (Cumbria, Northd, T&W)
It is also possible that patients from the Newcastle Diocesan area will be cared for in our hospitals in Carlisle and Sunderland, but the same chaplaincy contact applies. Chaplains are available to advise clergy and parishes about their care for those suffering from mental illness.
Email contact is preferred: Chaplaincy@cntw.nhs.uk
If you need to contact by telephone, Main Chaplaincy Office: 0191 246 7282.
For emergencies, contact the Switchboard 0191 246 6800 and ask for the on-call chaplain.
Chaplains working in the Newcastle Diocesan area:
Chaplaincy Team Leader:
The Revd Dr Neil Cockling 0781 052 8169 (SNH, CAV, T&W)
Deputy Team Leader:
Miss Marian Bell 0776 879 6907 (SGP, NG, Northd)
Clinical Lead Chaplain:
The Revd Clare Connors (Anglican) 0734 208 6525 (CAV, SNH, T&W)
Chaplains:
Mrs Diane Armstrong (Anglican) 0797 379 3025 (SGP, Northd)
Ms Sheryl Haw (Anglican) 0742 378 4365 (Cumbria: Alston community)
Sister Teresa Kinnoch 0782 447 5880 (WGP, T&W)
The Revd Stewart Watts 0797 042 0903 (FD, Northd: Tynedale)