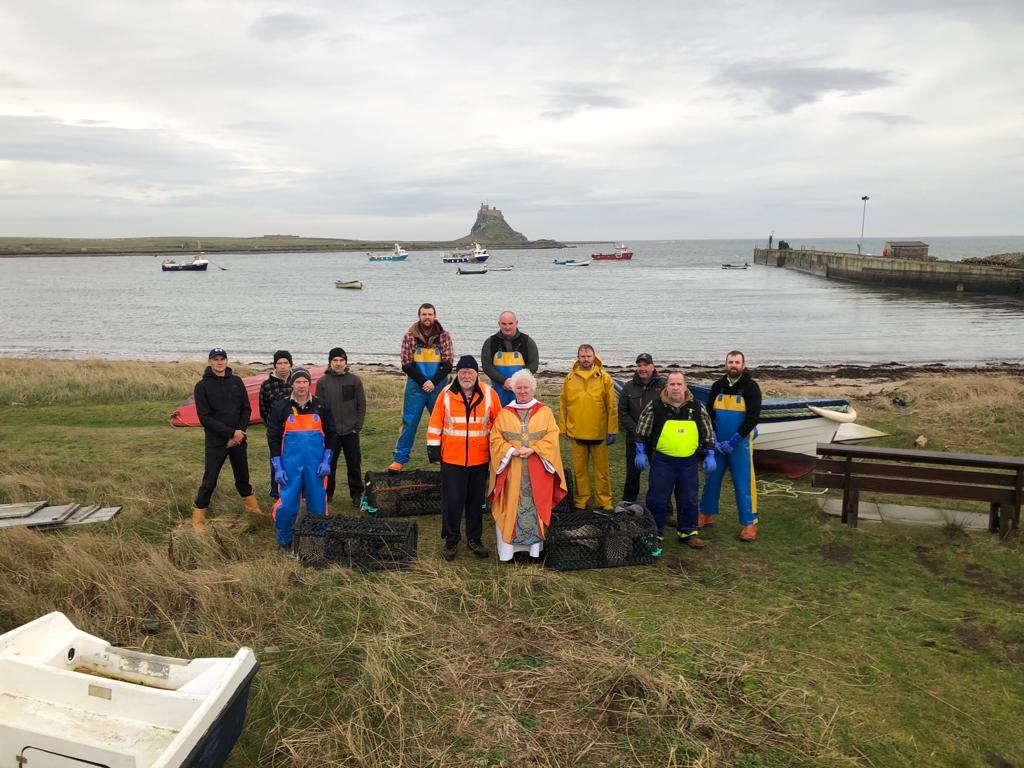 The Revd Sarah Hills pictured with Holy Island's fishermen during the campaign.
A vicar has thanked supporters from near and far after a controversial proposal to ban fishing on Holy Island was thrown out.
The Department for Environment, Food and Rural Affairs (Defra) has announced it will not be pressing ahead with plans for the island to become a designated Highly Protected Marine Area (HPMA).
The designation, intended to allow nature to recover and for ecosystems to thrive, would have brought an end to centuries of fishing on Lindisfarne, which remains an essential part of the local economy.
Campaigners, including the Revd Canon Dr Sarah Hills, vicar at St Mary the Virgin Church on Holy Island, claimed throughout the process, which began last year, that livelihoods would be put at risk.
They claimed environmental sustainability and stewardship were already high priorities for the Lindisfarne community, with fishing in the area small scale, sustainable, low impact lobster and crab potting with no fish being caught commercially.
Fishermen stressed that they should not be positioned as 'fishing against environment'. They are important allies, not enemies, in protecting the oceans.
Now Berwick MP Anne-Marie Trevelyn has tweeted a copy of a letter she received from Environment Secretary Therese Coffey stating that her department would not designate Lindisfarne an HPMA.
Sarah, who has been a spokesperson for the campaign alongside parish clerk John Bevan, said: "We are so relieved that this is not going ahead here. It means fishing can continue which is brilliant news.
"It also means this island can breathe and sleep again. The levels of anxiety have been huge and we have been stuck in limbo. This would have ripped the heart out of the community but now we can look ahead to a bright future."
Sarah said the campaign had received support from up and down the country, for which she was very grateful.
She added: "We've had a lot of support from our Diocese and beyond. Bishop Mark has been excellent and so has the Archbishop of York, Stephen Cottrell.
"This is a justice issue. It's the sort of thing that the church should be involved in. We should be in our communities advocating those who are in the margins and it has been a huge privilege to be able to exercise that."
Evening prayer during weekdays has been a big part of the campaign, while congregations at St Mary's have been singing Eternal Father Strong to Save, every Sunday morning since last July.
There was an emotional rendition of the hymn on Sunday, after news of the decision had been made public.
A Thanksgiving Service will take place at a date to be announced later in March.
Defra said it had listened to the views of communities during consultations over plans for HPMAs at Lindisfarne, and in other parts of the country.
A statement added: "The point of the consultation was to provide an opportunity to gather views and evidence on each of the candidate HPMAs.
"Defra reviewed the evidence gathered during the consultation and listened to the concerns and strength of feeling in the community surrounding the selection of Lindisfarne as a candidate HPMA. As a result, the Secretary of State has chosen not to designate this site."
Whilst it wouldn't be going ahead at Lindisfarne, Environment Secretary Thérèse Coffey said: "Our comprehensive Environment Improvement Plan sets us on a path to deliver an improved marine environment and halt the decline in biodiversity which benefits us all.
"Highly Protected Marine Areas are a vital step forward in enabling our ecosystems to thrive, increasing climate resilience and ensuring we have a healthy and productive marine environment for generations to come."