The Very Revd Geoff Miller has announced that he will retire as Dean of Newcastle in November.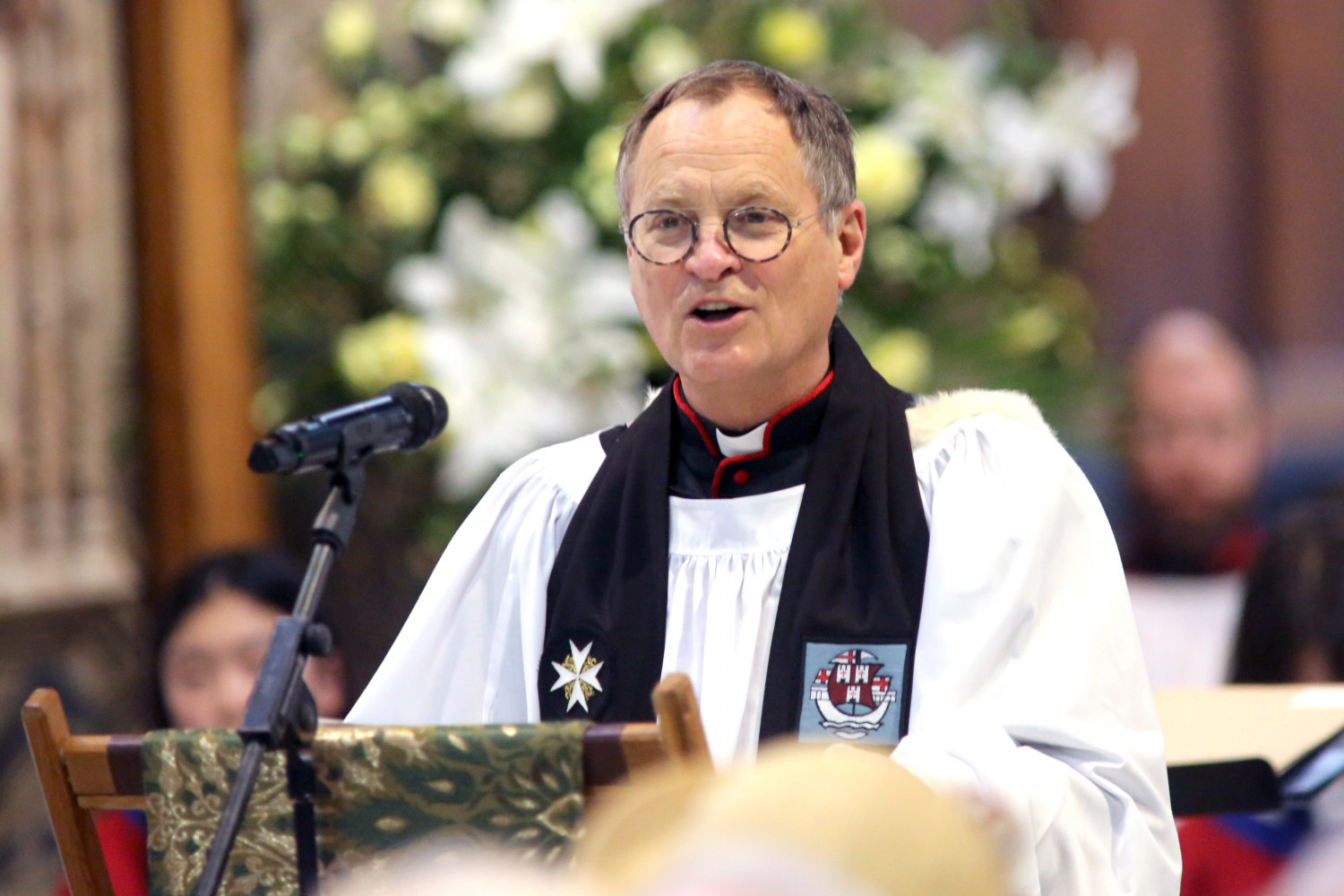 The Dean recently oversaw a major refurbishment of Newcastle Cathedral, still formally known as the Cathedral Church of St Nicholas, which serves as the mother church of the Diocese of Newcastle. The redevelopment involved a programme of capital works beginning in February 2020, funded by The National Lottery Heritage Fund.
The Cathedral reopened in summer 2021 with a new interpretation scheme, improved disabled access, and a landscaped outdoor terrace. Since reopening, the building has hosted a wide range of Diocesan and civic events, with several significant services due to take place during the current period of National Mourning.
Reflecting on his time, Geoff said: "It has been a joy to play a part in the continuing story of the Cathedral, helping to make this sacred place common ground.
"The vision we have created together has driven us to offer a radical welcome, inspiring worship and encounters that empower worth in each other. Even more important than the fabric of the building are the people; that is the incredible staff and volunteers, my talented clergy colleagues, and a vibrant congregation.
"We have benefited from a strong team, committed to a common vision."
The Acting Bishop of Newcastle and Bishop of Berwick, the Right Reverend Mark Wroe, paid tribute to Geoff: "Over the last four years, Geoff has served both Newcastle Cathedral and the people of the city and diocese with passion and commitment as Dean of Newcastle, and before that the wider Diocese since 1999, including his role as Archdeacon of Northumberland from 2005.
"Through the 'Common Ground in Sacred Space' project, which secured multi-million-pound Heritage Lottery funding, Geoff has overseen the incredible transformation of our Cathedral into an inspirational place to visit and worship in the heart of Newcastle and a building that is fit for future generations. His consistent compassion for the most vulnerable in our society and his desire to work closely with other churches and faiths, and city institutions and businesses, has ensured the Cathedral plays a key role in city life.
"Geoff leaves a legacy that is inspiring. He retires with our deep gratitude for his friendship, wisdom and for all that he has given this Diocese. We keep him and his wife Elaine in our prayers and love as they prepare to enter this new stage of life."
The Dean's time has encompassed the Covid-19 lockdowns, during which the Cathedral was an early adopter of live-streamed services, reaching new and existing members of the congregation while the building remained closed to worship.
Born and bred in the council estate of Wythenshawe in Manchester, Geoff had a short career in teaching at secondary level in Leeds before he began training for ministry at Nottingham. He was ordained in 1983 and served his title in the Parish of Jarrow.
There followed parish responsibilities in Billingham, South Shields, Stockton-on-Tees and Darlington before moving to Newcastle Cathedral as a Residentiary Canon and Diocesan Urban Officer in 1999.
In 2005 Geoff became Archdeacon of Northumberland, remaining attached to the Cathedral until becoming Acting Dean in 2018. He was installed as the Dean of Newcastle in the following year and in this capacity, has served the community in a wide variety of civic roles.
Geoff said: "Throughout the years, I have received so much undeserved support and genuine affection and hopefully played a small part in the extension of the Kingdom of God.
"My prayers and good wishes will be with the Diocese as it prepares to welcome a new Bishop and of course with the Cathedral as it continues to enhance and enjoy its ministry in the region."
The Dean's last formal service at Newcastle Cathedral will be the 4pm Choral Evensong on Sunday 20 November with a farewell reception afterwards. The process of appointing a new Dean of Newcastle will likely begin in the New Year, with an Acting Dean to be appointed in the interim.
During the period of National Mourning for Her late Majesty the Queen, Newcastle Cathedral will continue to be open for all who wish to offer prayers, sign a book of condolence, and reflect on the contribution she made to our nation.

Events surrounding the Dean's retirement
The Dean will host 'The Dean's Farewell Tours' on select dates in October and November. At these events, the Dean will accompany visitors around Newcastle Cathedral, pointing out some of his favourite features in a building he has come to know so well. Spaces are limited and tickets can be pre-booked via the Cathedral website.
newcastlecathedral.org.uk/tours-talks-and-exhibitions
The Dean will also give a talk, 'Dressing up the Sacred' at Newcastle's Laing Gallery on Tuesday 29 September at 3pm, taking the Lindisfarne Gospels as a springboard to discuss how precious things are often elaborately adorned to honour their spiritual significance. Tickets can be booked via the Laing Art Gallery website.
newcastlecathedral.org.uk/inspired-by-lindisfarne-gospels-202