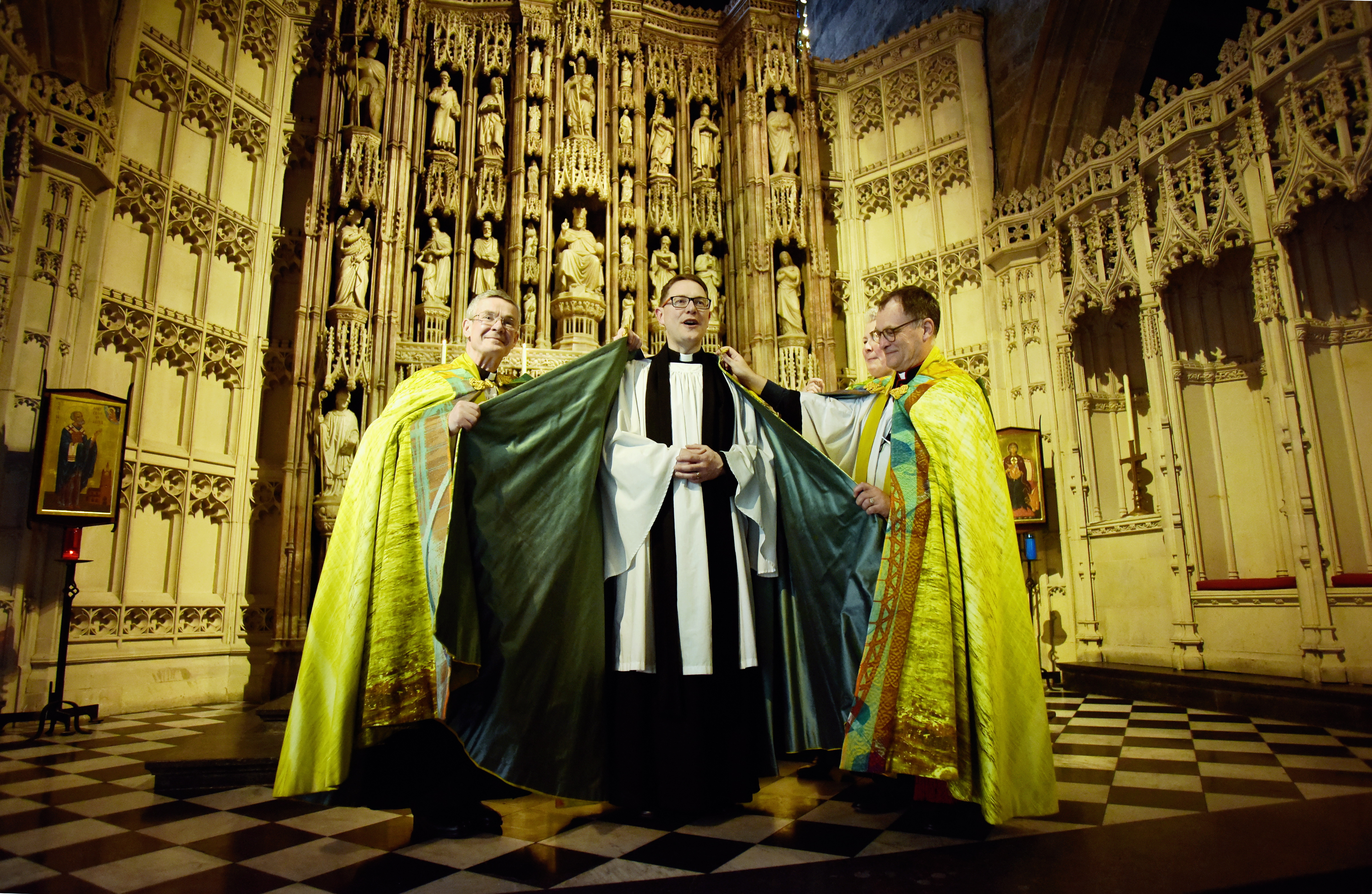 Civic leaders were at Newcastle Cathedral today as the Reverend Mark Wroe was installed as the new Archdeacon of Northumberland. Click here for photographs.
Mark, 49 and who was previously vicar at Holy Trinity Jesmond, Newcastle, is now the Venerable Mark Wroe.
He was appointed Acting Archdeacon last year after the Very Reverend Geoff Miller, his predecessor, became Dean of Newcastle.
Marks appointment comes at an exciting time for the Diocese of Newcastle as it continues with its five-year vision: growing church bringing hope, inspiring growth in worshipping communities across Newcastle, North Tyneside and Northumberland.
Following his appointment, Bishop Christine said: Mark brings with him great warmth and deep faith. He has been an inspirational incumbent at Holy Trinity Jesmond, and has served the wider Church with wisdom and dedication as Area Dean, and since January last year, as Acting Archdeacon of Northumberland.
Alongside the usual duties of an Archdeacon, Mark will be taking the lead role for the City Centre strand of our Diocesan strategy for growing church bringing hope, and he will be facilitating and overseeing the reshaping of the Diocesan approach to social responsibility. He will also be installed as a Canon Residentiary of Newcastle Cathedral.
The Bishop of Berwick, the Right Reverend Mark Tanner said: Mark brings a wealth of experience and a lovely mix of godliness, wisdom, compassion, and lively hope; he will be much missed at Holy Trinity, but will continue to be a blessing to the Diocese in this new role. I am delighted at his appointment, and look forward to working with him.
Commenting on his appointment, Mark Wroe said: I am truly delighted and privileged to be called to serve the Diocese of Newcastle as Archdeacon of Northumberland. In the midst of so much change and possibility, I relish the opportunity to work with parishes and deaneries to proclaim the hope we share in Jesus Christ. In all our richness and diversity as the people of God in the North East, we have so much we offer to our city, all our communities, and those in need.
The Dean of Newcastle, the Very Reverend Geoff Miller added: At the Cathedral we are thrilled to welcome Mark as he comes to work amongst us. We already know that he will be a dynamic, prayerful and generous colleague. He joins us at a wonderful moment in the life of the Cathedral and he will be a great addition to our team. He is also great fun - what could be better!