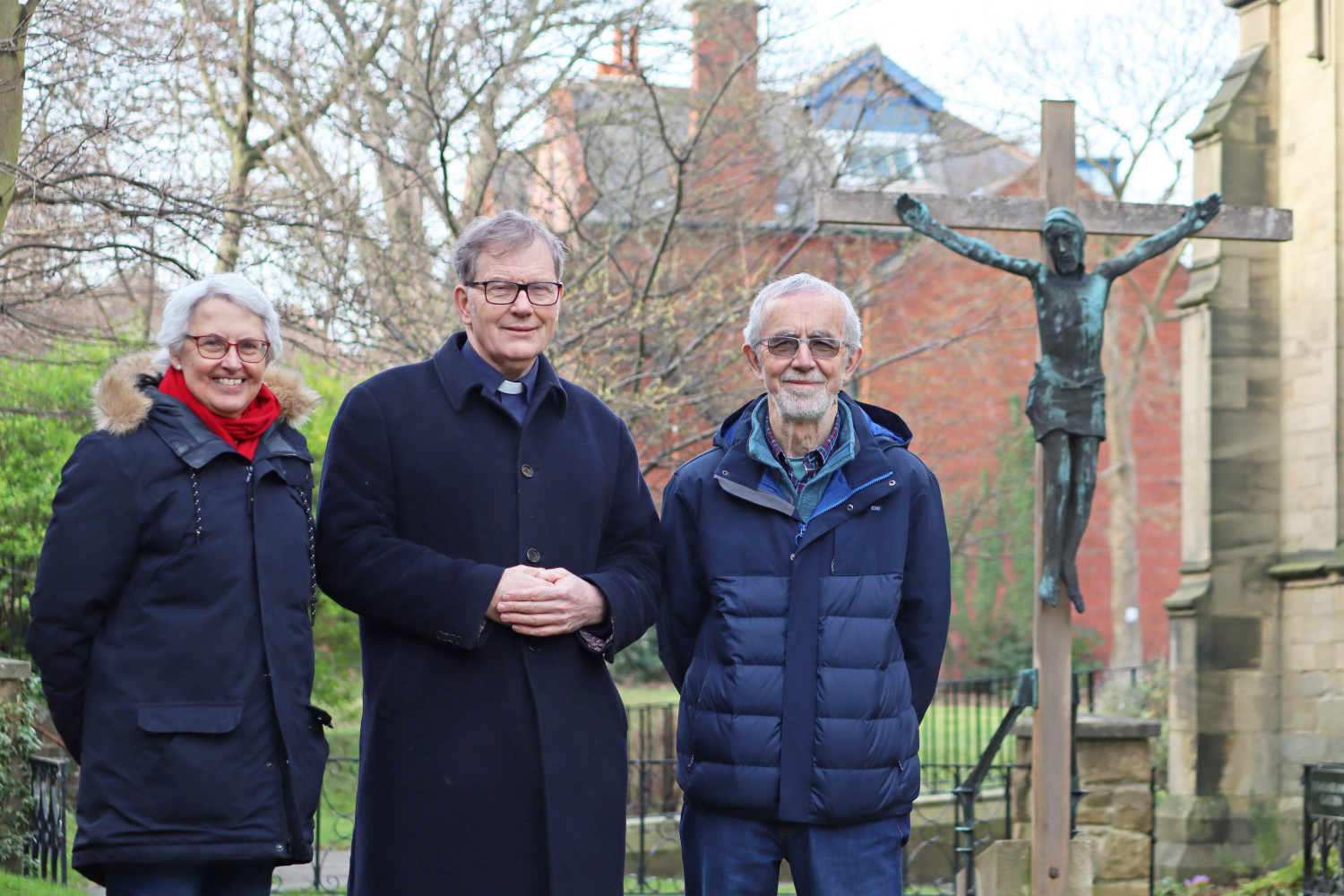 The Revd Canon Andrew Shipton and churchwardens Nick Glover and Christine Willoughby, pictured in the Garden of Remembrance at All Saints Church, where the sculpture has returned.
The Bishop of Berwick will rededicate a stolen crucifix after it was returned and restored to its former glory.
Bishop Mark Wroe will join the Revd Canon Andrew Shipton at All Saints Church in Gosforth on Passion Sunday, 26th March, for a service of thanksgiving and rededication.
It comes almost two years after thieves stole the highly significant sculpture from the Garden of Remembrance at All Saints Church during an overnight raid in May 2021. The theft of the Calvary Cross, which contains a bronze sculpture of Jesus, attracted international media attention and a reward was offered for information after police launched an investigation and public appeal. The crucifix was quickly tracked down to a scrapyard in Newcastle and recovered. Damage had been caused to the welding originally carried out by sculptor Frank Roper back in 1965.
The discovery sparked a funding campaign to raise funds which would enhance its surrounding environment. This was successfully reached thanks to public generosity and support provided by the North of Tyne Combined Authority and the Community Foundation. The sculpture was taken to Edinburgh, where conservation specialist Graciela Ainsworth was appointed to carry out the work.
Last October, the Calvary Cross was finally reinstated in the Garden of Remembrance, where ashes are interred. It has been positioned on a new plinth with enhanced security. Associated works have included lighting to illuminate the structure at night, while drainage work is being carried out on the green to increase its use as a community resource all year-round.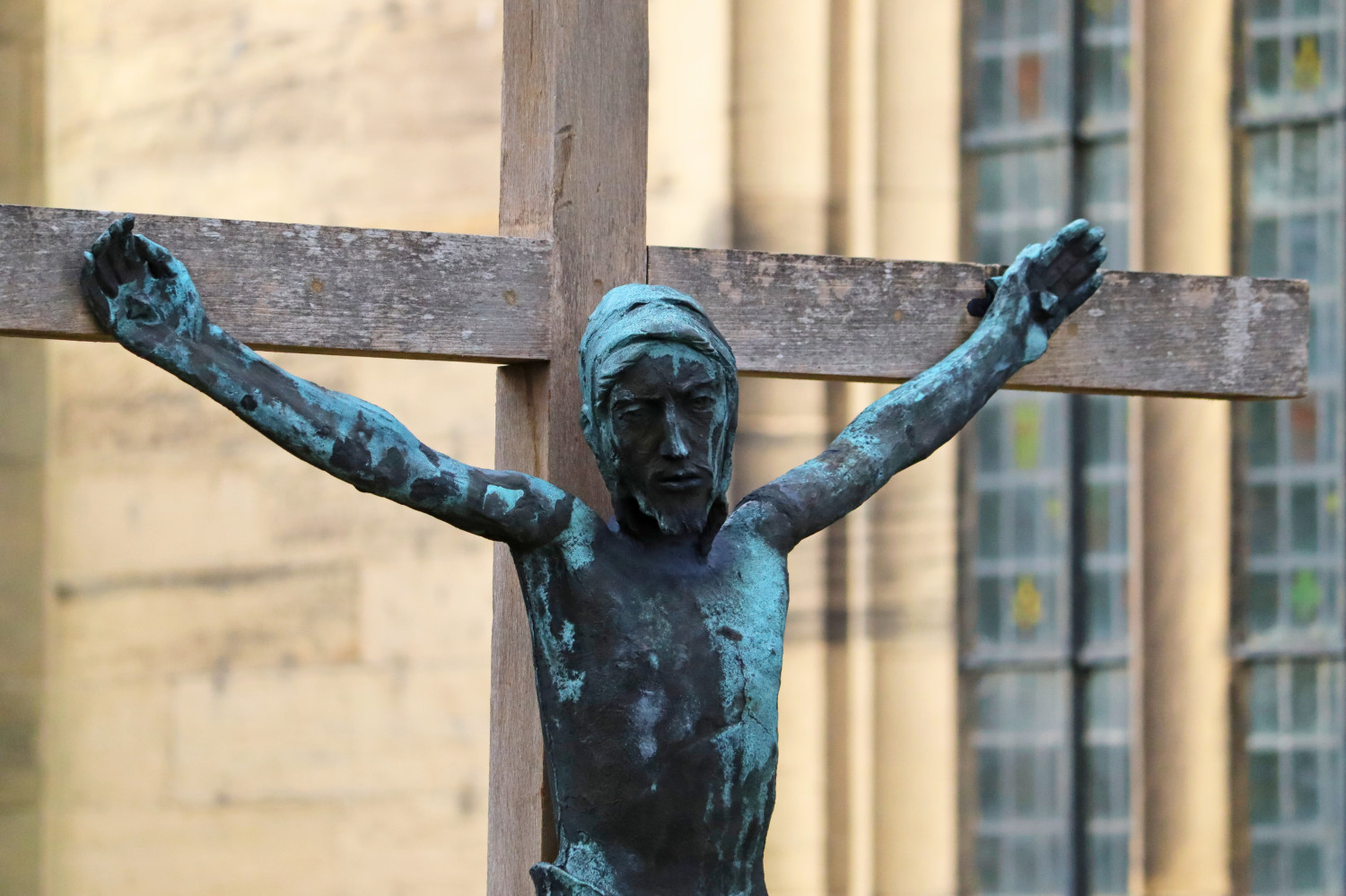 Andrew said the public would be welcome to attend the thanksgiving service and rededication on 26th March, while invitations will be sent to families who have interred the ashes of loved ones at the Garden of Remembrance in recent times.
He added: "It has been quite a journey for the Calvary Cross and indeed for us as a church. We did fear that this treasured sculpture might never be seen again so to get to this stage, where it has not only been returned, but repaired to such a high standard, is quite remarkable.
"We are extremely grateful for the generous donations which have enabled the specialist repair work to be carried out so wonderfully well. We are so very thankful to the police and everyone who has played a part in its welcome return and reinstatement.
"It will be a very special occasion on Passion Sunday. We are delighted that Bishop Mark has agreed to come along to rededicate the cross and we look forward to welcoming others who would like to be part of the day."
It is now 58 years since sculptor Frank Roper cast the torso, arms and head separately, then welded them together. Andrew, who was interviewed by news networks from home and abroad in the aftermath of the theft, said everyone at All Saints Church fully appreciates its history and significance.
He added: "The story was picked up by news networks all over the world and I received messages from Australia, Canada and Nigeria as well as from all over the UK, and of course Gosforth."