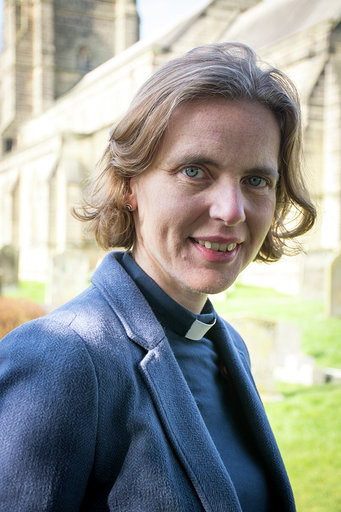 The Reverend Catherine Pickford, currently Priest in Charge of St Mary the Virgin, Stannington, and Continuing Ministerial Development Officer for the Diocese of Newcastle has been appointed the next Archdeacon of Northolt in London.
Previously, Catherine was a Team Rector in Benwell in Newcastle, where she was also a Police Chaplain and was deeply involved in youth and interfaith work.
She is a member of General Synod and Chair of the House of Clergy in the Diocese of Newcastle. She writes occasional articles for the Church Times and was a contributor to the book Northern Gospel, Northern Church, exploring themes of regional identity.
Catherine said: I am immensely grateful to the Diocese of Newcastle for the opportunities I have been given to grow in faith, skills and confidence over the last twenty years. In Gosforth, Benwell, and Stannington, I have experienced the glorious diversity of the diocese and worked with inspiring, creative, and committed people. I have been privileged to work alongside our passionate and dedicated clergy and readers through my Continuous Ministerial Development work and as chair of the House of Clergy, and have learned so much from my colleagues about the ministry we share.
Catherine is married to John, a sculptor, and they have three school age children.
The Bishop of Newcastle, The Right Reverend Christine Hardman said: I am delighted that the Church has discerned Gods call on Catherine to be the next Archdeacon of Northolt, and I am sure that she will be a blessing to the Diocese of London. Catherines ministry in her parish and diocesan roles has been deeply valued for many years in the Diocese of Newcastle, and she will be greatly missed. Catherine leaves with our love, and we hold her and her family in our prayers as they prepare for their move to London.
The Right Reverend Sarah Mullally, Bishop of London, greeted the appointment by saying: I am very pleased to announce Catherines appointment as the new Archdeacon of Northolt. I am certain that, under the stewardship of the Bishop of Willesden, Catherine will provide clear-sighted guidance, leadership and vision to the Archdeaconry, as well as supporting the mission of the Diocese of London. Catherines commitment to the service of the Church and to the members of the communities in the Diocese of Newcastle is highly commendable, and I am sure she will leave an indelible legacy.
The Archdeaconry of Northolt comprises the London Boroughs of Brent, Ealing, Harrow and Hillingdon. The Area Bishop is the Right Reverend Pete Broadbent, Bishop of Willesden, who commented: Its exciting to have Catherine joining the team here in Willesden. I know that she brings a wealth of experience and a real commitment to teamwork, to the poor, and to enabling the flourishing of all. I look forward to welcoming her on board and to working with her.
The new Archdeacon will take up her appointment in September.