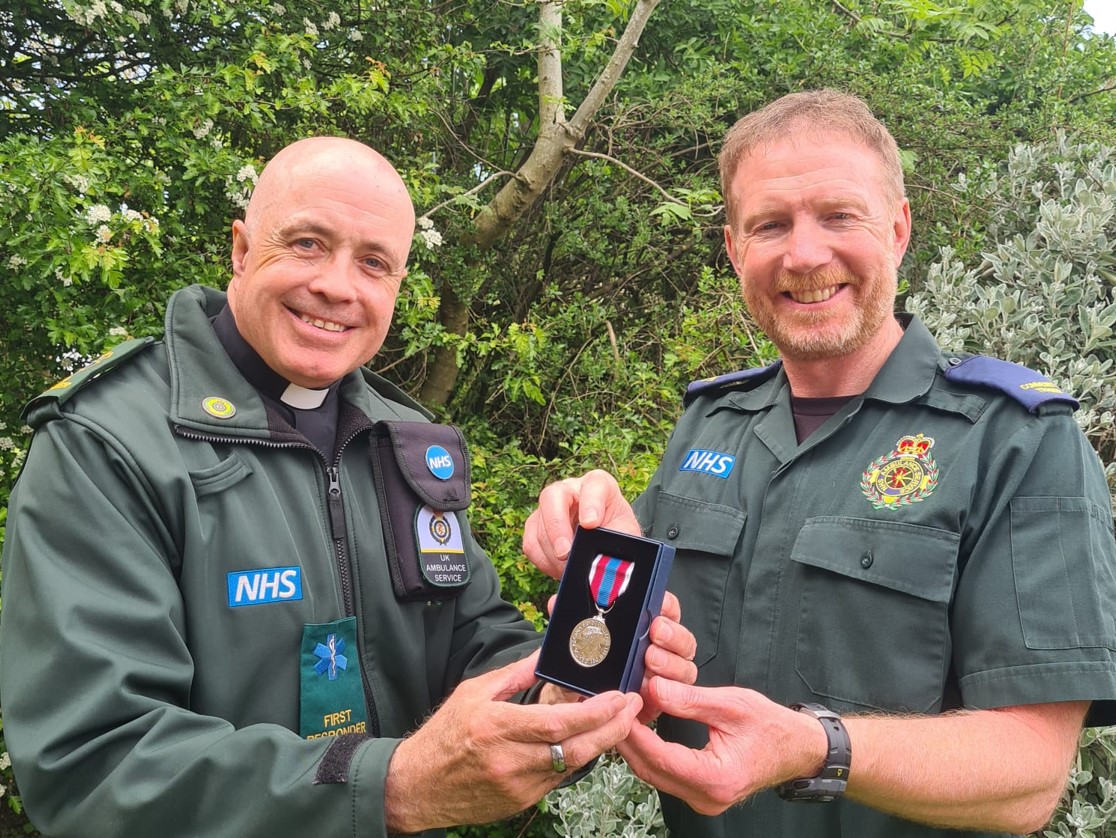 Revd Mark (left) and Paul Brolly (right)
A Newcastle vicar and voluntary ambulance responder has been awarded the Queen's Platinum Jubilee Medal.
Revd Mark Edwards MBE, Vicar of St Matthews Dinnington and St Cuthbert's within Christ the King Team Ministry, was awarded the special commemorative medal for his work as an emergency service volunteer with North East Ambulance Service (NEAS).
The medal - given to serving front line members of the police, fire, emergency services, prison services and the Armed Forces as a token of thanks for their commitment to public service - is the second one Mark has been awarded, after being presented with the Queen's Diamond Jubilee Medal in 2012.
Mark, who is also a special constable with Northumbria Police, has been a voluntary community first responder for NEAS for 13 years. Alongside his ministry he gives up a lot of his free time responding to medical emergency calls within his area.
The medal was received by Mark from Paul Brolly, Community Resuscitation Officer, line manager and community first-responder co-ordinator for NEAS, in appreciation of his hard work and dedication on behalf of the board of directors.
Paul said: "Mark is able to offer not only medical assistance but also support and comfort in what can be very difficult times for service users and family. He is an excellent first responder and I feel lucky to have such a committed and capable member of the team within NEAS.
"As a result of his role he is a very active and important member of his community, not only as a first responder but also as a Special Constable. His willingness to give his time and energy to his community not only makes it a safer place to live, but also a more pleasant and united one. He has always offered this support without question and it is one of his strengths that he is able to do so with such kindness, openness and compassion.
"It was a pleasure to be present when Mark received his Platinum Jubilee Medal in recognition of his valuable work as a volunteer within the emergency services."