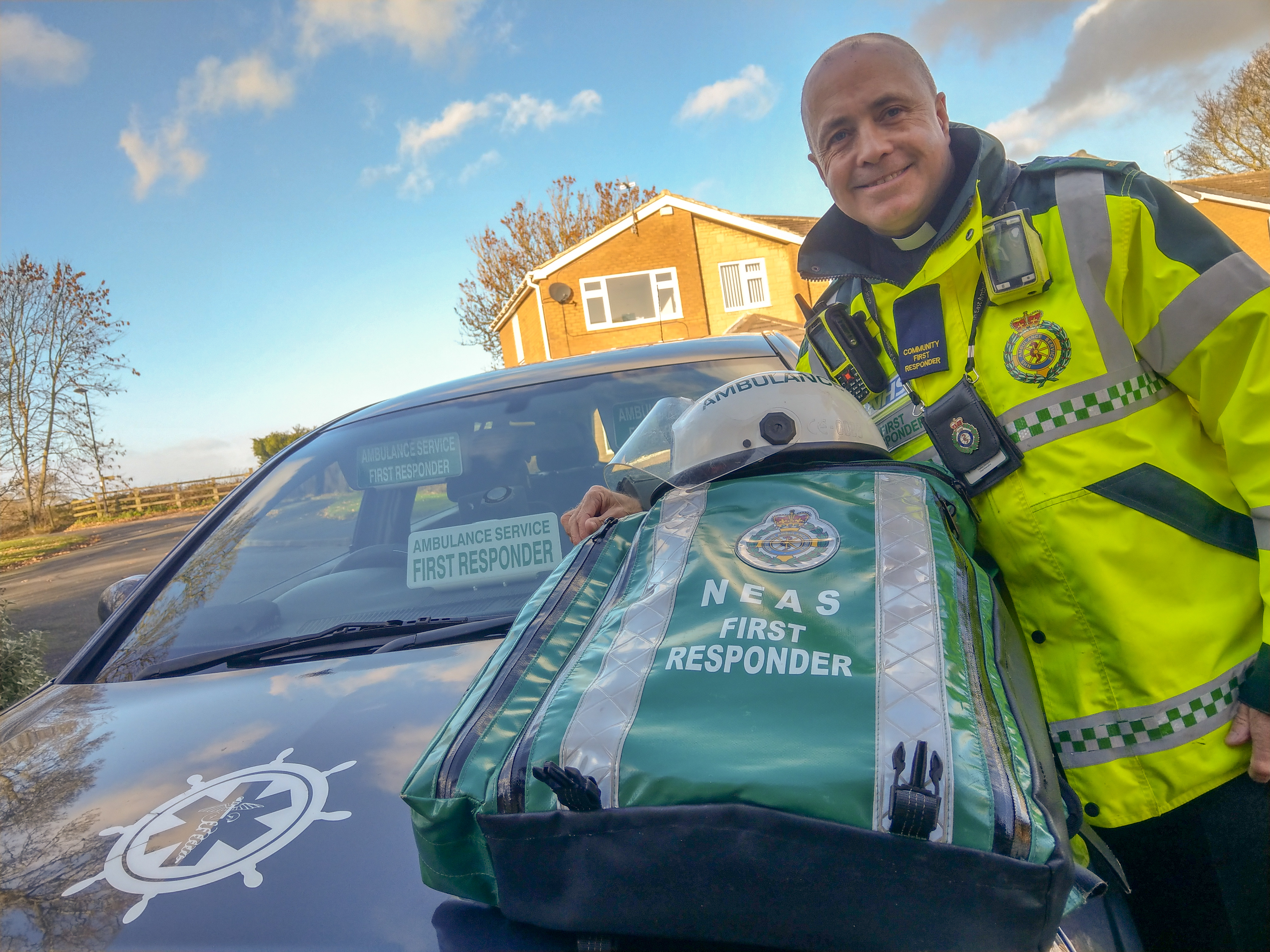 The dawn of a New Year sparks a desire in many people to make positive changes in a bid to improve their lives.
Whether thats a commitment to deepen faith and spirituality, or simply a pledge to go to the gym more, these resolutions will shape their future selves.
For some, their journey may take unexpected twists and turns along the way as they attempt to leave their past in the past and focus on their future.
Each journey is different and we find strength and resolve in hearing other peoples inspiring stories.
We speak to the Revd Mark Edwards, Vicar of St Matthew Dinnington, St Cuthberts Brunswick with Christ the King Team Ministry, about his journey through a troubling childhood fraught with mental health issues to finding faith and becoming a pillar of the community.

I had no control as a child, I was pushed from pillar to post, says Mark recounting his childhood experience of life in local authority care.
One of five siblings, Mark was taken into care at the age of three along with his one-year-old brother. His mum suffered from mental health issues and his father, who was in the army, felt unable to bring-up his young family after his marriage broke down.
Mark was looked after by several foster families and then spent seven years in a childrens home until the age of 16, when he left care to live with his sister.

During his time in care, Mark was sexually and physically abused. His mental health suffered as a result of the abuse and his unstable upbringing, which led Mark to attempt suicide twice as a teenager.

He was sectioned under the mental health act and spent five months in a psychiatric hospital.
Mark wrote detailed diaries during his time in hospital and has documented his mental health issues in a book he published in 2017 called Life After Care.

Now a firm advocate for mental health support and awareness, Mark is keen to share his story in order to help others.
I was embarrassed to talk about mental health issues and my depression until celebrities and royalty started to talk about it so that gave me confidence to share my story.

Marks story is one of hope and positivity. Despite his difficult start in life, Marks inner strength and the kindness he was afforded by others enabled him to transform his life.

At the age of 19, Mark was discharged from psychiatric hospital and without wanting to burden his sister who had a young child, he found himself homeless.

For a while he slept in a night shelter, and then a Gospel Hall minister took Mark under his wing, allowing him to sleep in the church hall before finding him a bedsit.

Marks life turned a corner when he met his future wife, Lesley at a soup kitchen.
She was working there and she served me some soup. I was helping out in the kitchen and I didnt want her to know I was homeless, so I just said I was volunteering.

Mark soon explained his predicament to Lesley and despite his initial fears, she was very supportive.
She went out with me even when I was homeless. She really is the hero of my life.

Two years later the couple wed and they have gone on to have four children and two grandchildren. This year marks their 35th wedding anniversary.
Our faith has defined us as people, said Mark. Its the foundation on which weve built everything.

Mark believes he owes his life to his faith: Without it I wouldnt have got out of psychiatric hospital.

His first experience of religion was as a young child in care in Spalding, Lincolnshire.
Attending church was compulsory. We would march down to the United Reformed Church and then the group was split into two and myself and my brother went to a small Baptist church.

He joined the boys brigade and kept on worshipping at church even after the care home relaxed its rules on enforcing youngsters to attend.

But as his struggles with his mental health worsened and once he left care, Marks faith lapsed.
I had walked away from religion then. I blamed God for the bad lot I had been dealt.

That all changed when a Methodist minister visited him while he was sectioned in the psychiatric hospital and they prayed together.
Eighteen months later Mark had a profession of faith and told his story in a Gospel Hall.

Afterwards a woman came up to me and said her Methodist minister was the one who had visited me in hospital and he had asked his congregation to pray for me. This was a year-and-a-half later and I just thought it was incredible. God has always had a hand on my life, I just wasnt always aware of it.

After studying at Bible college to test his faith, Mark became a lay worker in a Baptist church and then was called to the Church of England.

He was accepted for ordination training and despite his mental health issues affecting his time at university, he successfully completed his studies and was ordained in 1995.

I was ordained against all the odds it was not the easiest route to take. The things I have done are by the grace of God and I have grown in my faith over the years.

Before moving to our Diocese, Mark was a priest in Barrow-in-Furness, Cumbria and volunteered for Duddon Inshore Rescue in his spare time.

It was there that Mark was awarded for his service to the voluntary sector and received an MBE from the Queen.
For someone from my background - being brought up in a care home, spending time in a psychiatric hospital and being homeless, to then standing on the steps of Buckingham Palace. It was unreal.

When Mark and his family moved to Dinnington, he continued his community work, training as a Community First Responder for North East Ambulance Service (NEAS) which he has done for the past eight years.

Mark is trained in basic life support and is often the first medic on scene, where he must deal with a multitude of scenarios from patients in cardiac arrest to casualties with significant trauma.

He describes his first call out as a baptism of fire.
There was a patient in cardiac arrest and I was the first medic on the scene. It was pandemonium children and relatives were screaming in the garden and I administered CPR until the paramedics arrived but sadly the patient died. It was very upsetting as your sole purpose is to try and save a life, but sometimes you end up offering comfort to families.

Mark clocks on for a shift as often as he can and has been called out to hundreds of emergency calls over the years.
Every job is different. Sometimes its just about holding someones hand and reassuring them which brings some comfort and calms the situation down. TLC is important in the role of first responder.

En route to a call out is always nerve-racking. In your mind, you are going through what you are going to do, but once you get there, you dont have time to think and you go into training mode. I have never gotten to that place where I dont have an adrenaline rush.

In October, Mark was highly commended for his role in NEASs Beyond the Call of Duty Awards.
He added: The support from NEAS is incredible and they always check-up on responders to see how you are after a call, particularly if it is a difficult one.

Mark, who receives no reimbursement for his role as a Community First Responder, believes it is vital to complement his work as a vicar with this additional voluntary community work.

Our vision for this Diocese is to be generous, engaged and open: working in our communities goes hand-in-hand with this.
It is important to care for people holistically. We should be engaging with people all the time and being with them at the worst possible moment of their lives.

There have been a few occasions when Marks dual-role in the community have overlapped, and he has taken the funeral of those he has treated.

It is of course very sad, but I think it gives the families comfort in a way. I have been with their loved one at the end of their life and I have an understanding of what the family is going through.

In his parish, Mark is often spotted by members of his congregation in his community responder gear and his presence is often remarked upon.

It does make a lot of people laugh. I often joke with people that they phone 999 and end up with the vicar!

Marks inspirational life-story and his coming to faith are closely intertwined. I still get very emotional when I talk about it, but it is important to share. I will always live with mental health issues, but because of my faith and my rule of life, they are kept in check.
Life After Care: From Lost Cause to MBE is available to buy from www.triggerpublishing.com and proceeds will go towards supporting the Shaw Mind Foundation.