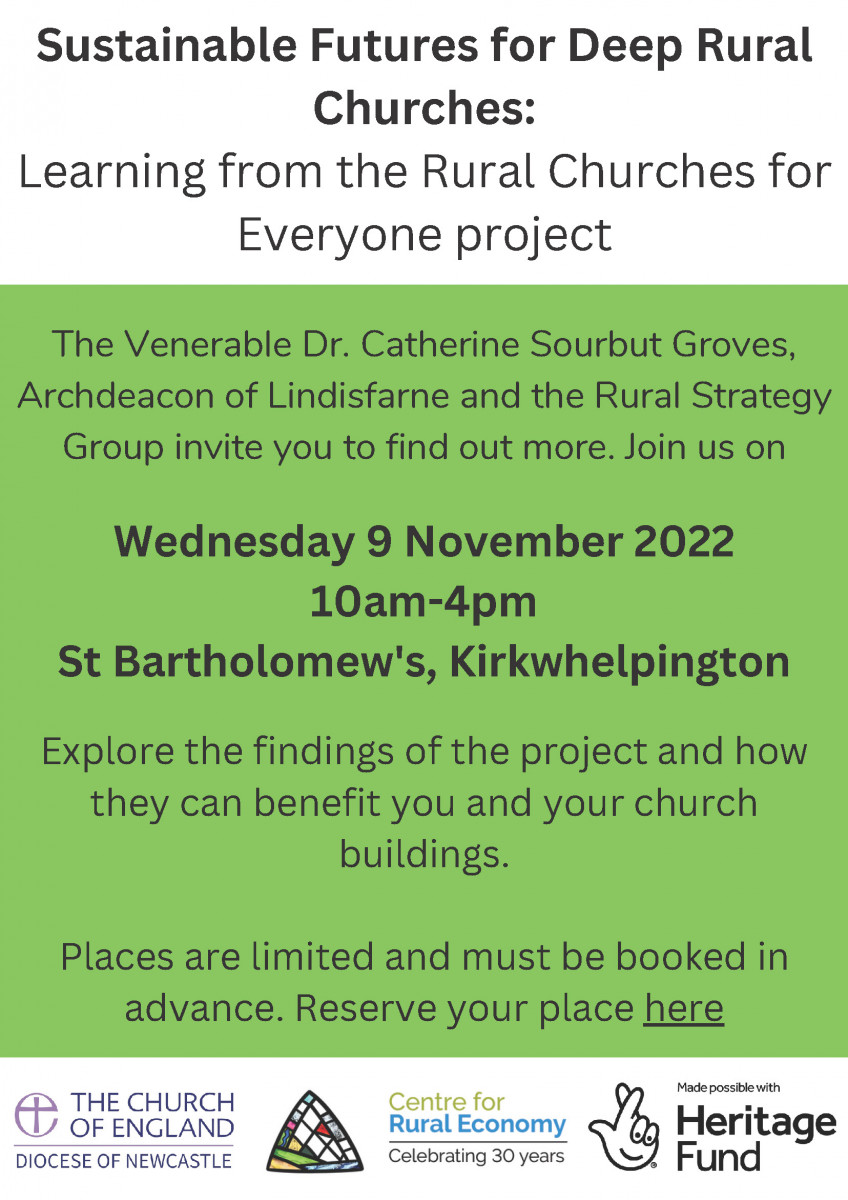 Sustainable Futures for Deep Rural Churches:
Learning from the Rural Churches for Everyone project
Wednesday 9 November, 10am-4pm, St Bartholomew's Church, Kirkwhelpington
The Venerable Dr. Catherine Sourbut Groves, Archdeacon of Lindisfarne invites you to the Rural Churches for Everyone project conference. The event will be the culmination of three years of activity, working with 35 churches across rural Northumberland. At the conference we will:
Explain the work of the RCfE project and how the findings can impact on you and your churches
Celebrate the rich heritage of our church buildings and the dedication of our clergy, PCCs and volunteers
Explore how we can develop new networks and partnerships across the rural Diocese
Outline the tools and support the Rural Strategy Group can offer as we continue to put the learning from the project into practice
Confirmed speakers for the day are:
Yvonne Conchie, RCfE Rural Development Specialist
Rev. Dr. Claire Maxim, Priest in Charge, North Tyne & Redesdale and former CEO, Arthur Rank Centre
Dr. David Petts, Associate Professor in Archaeology, Durham University
It is with great pleasure we can confirm that the Right Reverend Dagmar Winter, Bishop of Huntingdon will be the keynote speaker for the event. Formerly Priest in Charge of Kirkwhelpington, Kirkharle, Kirkheaton and Cambo and then Rector of Hexham Abbey, it will be wonderful to welcome Bishop Dagmar back to Northumberland and hear her thoughts on rural ministry and mission.
Places are free but limited and must be booked in advance. Further details will be added to the event page as they are confirmed: https://www.eventbrite.co.uk/e/sustainable-futures-for-deep-rural-churches-rcfe-project-conference-tickets-432458574237
Any queries should be directed to Philippa Carter, RCfE Project Manager, p.carter@newcastle.anglican.org