This year we are delighted to be celebrating our third annual diocesan Generosity Week, between Sunday 24th September and Sunday 1st October. Since launching in 2021 we have collectively dedicated a period of time each year to give thanks for all we have been given by our generous God, and encourage one another in sharing the gifts with which we have been blessed.
Generosity comes in many forms, all of which are needed for our churches to flourish and it is often financial generosity that is the most difficult to encourage. To mark this Generosity Week, we would like for the first time to invite parishes to embark upon a season of stewardship, and intentionally set aside some time to focus on financial giving, alongside wider Generosity Week plans.
'Pathways to Generosity'
Recently, all deaneries completed and submitted a deanery plan. The plans have shown that encouraging financial generosity is a priority for many churches, and an area in need of development. We know that for some talking about money can be difficult, and for others knowing where to begin on a practical level can be a barrier to getting started.
To help parishes overcome some of these challenges, the Generous Giving Team has created 'Pathways to Generosity,' a comprehensive toolkit designed to make life easier. The pack is available to download here but printed copies have also been distributed to every parish, thanks to the generosity of Benefact Trust. Pathways to Generosity contains the following information;
Giving Review Guide - a step by step guide to help parishes navigate a Giving Review, with easy to use tools, links to templates and key messages for parishes to communicate.
Exploring Generosity - an interactive four session course to help small groups explore the theme of generosity from a biblical perspective. We suggest running this short course as part of Giving Review preparations.
Download 'Giving Review' Guide Download Exploring Generosity
3. Inserts - a series of 5 'quick start' guides covering all main giving mechanisms as well as support for ongoing teaching and nurturing of generosity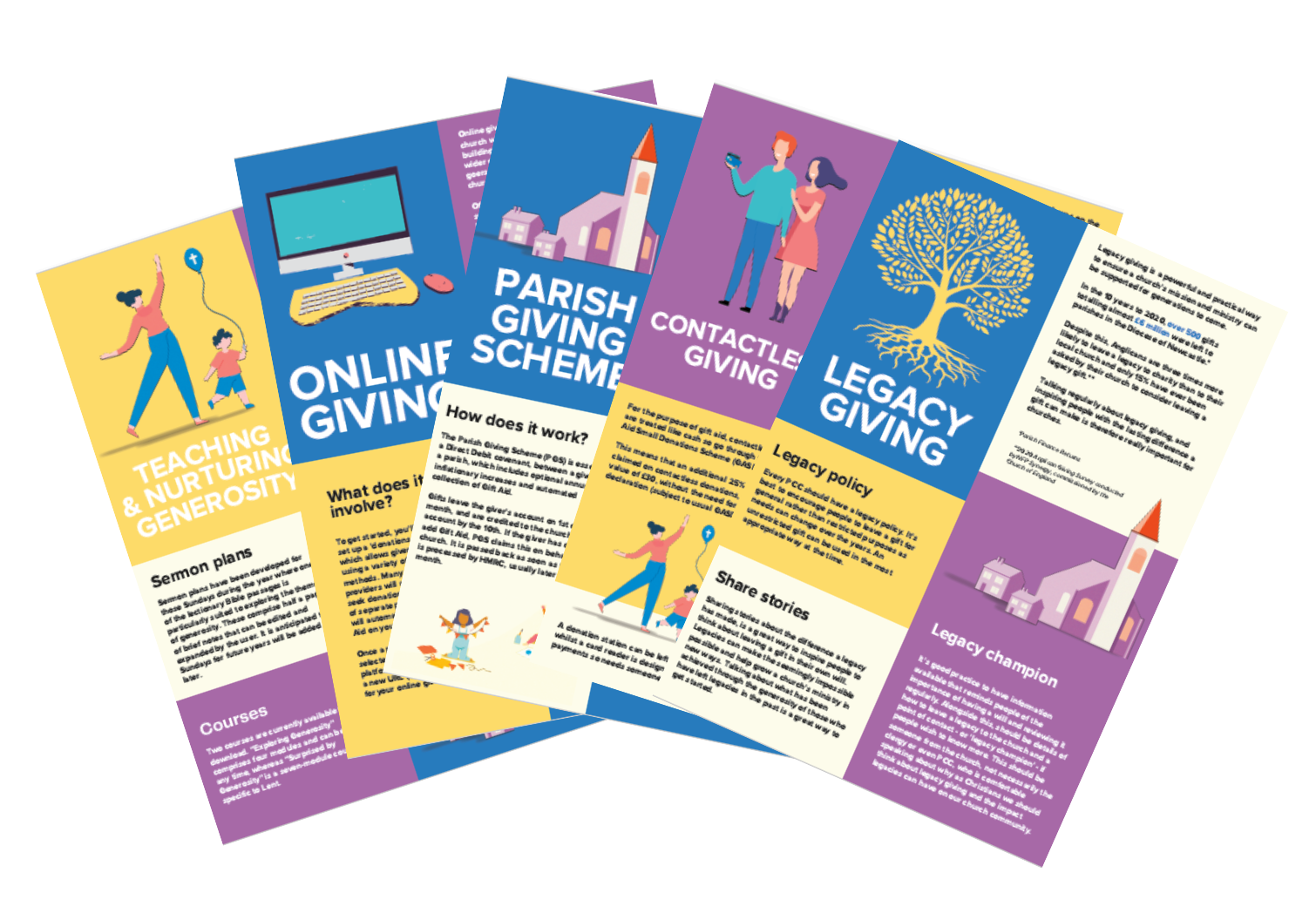 Download Teaching & Nurturing Generosity
We strongly recommend and encourage all parishes to include a Giving Review in their annual plans and would be delighted to see Generosity Week as the time chosen time to do this. Otherwise, our resources are suitable to use at any point so parishes can still benefit from them when the timing suits.
Generosity Week Clinics
For a deeper delve into individual topics during Generosity Week itself, the team are holding two 'clinic days.' The invitation to attend is open to clergy, laity or anyone else involved in the running of their church. Sessions run at different times during each day. You only need to book for the ones you are interested in and may choose the date and location most convenient to you.
St Michael's Parish Hall, Walkergate, Alnwick, NE66 1NB
Tuesday 26th September 10am-3.15pm
St Bartholomew's Church Hall, Station Road, Benton, NE12 8EY
Wednesday 27th September 10am-3.15pm
| | | | | | |
| --- | --- | --- | --- | --- | --- |
| Nurturing & Preaching Generosity | Running a Giving Review | Legacy Giving | Digital Giving | Parish Giving Scheme ('PGS') | Making the Ask ('MTA') |
| A session to help church leaders talk with confidence and sensitivity about generosity, and to explore how biblical principles relate to everyday life | How to plan and run a successful stewardship campaign with an opportunity to explore key giving data and statistics | Practical support for parishes looking to get started or refocus efforts on encouraging legacy giving | An opportunity to learn more about contactless giving, online giving and the use of QR codes (NB: demo equipment will be available) | A session suitable for all who are keen to learn more about PGS as well as existing PGS members looking for tips to grow giver numbers | A session to raise the confidence of anyone with responsibility for inviting people to make a donation to their church |
Other Ways to Get Involved in Generosity Week
The National Church have additionally created a range of resources for parishes to use as part of Generosity Week this year. These include, podcasts, reflections, service resources, prayers and marketing materials.
National Church Generosity Week Resources
Get In Touch
'Pathways to Generosity' has been designed to equip and enable parishes to prepare independently for any given Generosity Week, but the Generous Giving Team are always available to provide additional hands on support. This could be anything from providing advice to a PCC, running a deanery wide workshop, preaching on generosity at a Sunday service or providing data to help benchmark giving against deanery, diocesan or national figures. We would also love to hear about specific things happening this Generosity Week so please get in touch to share plans.