Daily Generosity Theme
Each day we hope to inspire different forms of generosity through a short story filmed within the diocese.
Generous care
Generous hospitality
Generous welcome
Generosity with possessions
Generous judgements
Generosity with talents
Generosity of time
Generosity of wealth
Watch Themed Stories of Generosity
Daily Reflection on Generosity
Giving Ministry Adviser, Dennis Fancett, brings a daily story based relection, designed to help us understand more deeply the link between personal financial generosity and growing in our faith as children and disciples of God, committed to His purpose as outworked through the mission of our local Church.
Activities for Children and Young People
These resources are suitable for Children, Young People and Family workers, Sunday School leaders and any other volunteers operating in a relevant context.
The first resource can be used as a framework for Generosity Week and is based on Proverbs 3: 1-10 and the concept that when we know God's Peace and Love, we can Trust in him, be Kind and Give what we can to others in need.There are many ways to break this passage down into different activities and the ideas suggested in the pack are suitable for a range of ages.
The second resource, created by the Children and Youth Team in the Diocese of Leeds is designed to help children and young people begin to explore the topic of stewardship.
In addition we have designed eight mini challenges for children to engage with whilst helping them to think about generosity.
Download Proverbs 3 Resource Download Stewardship Resource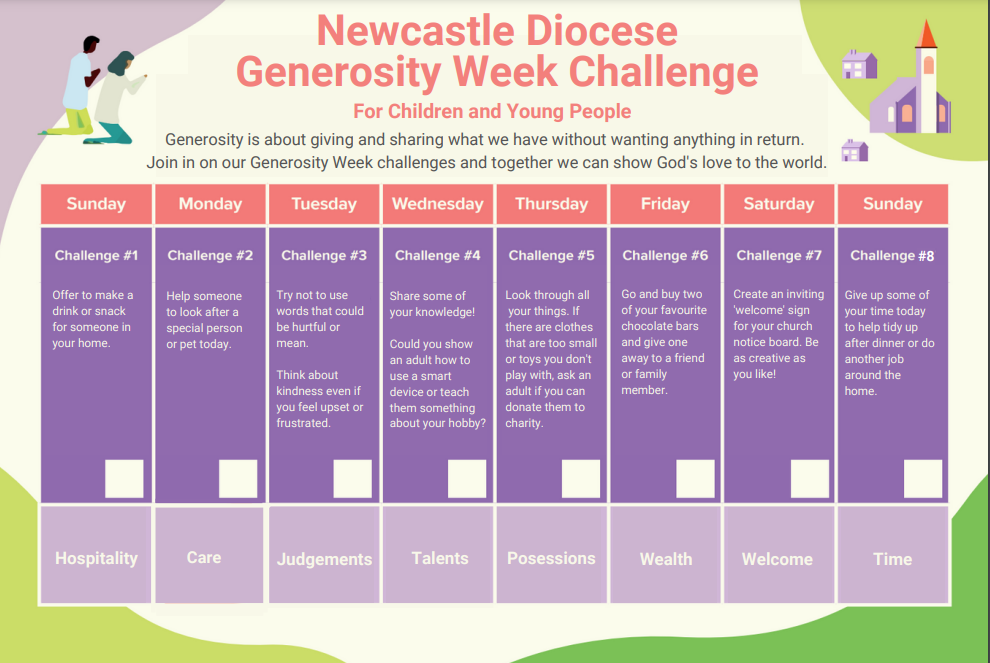 Download Generosity Week Challenges for Children
Daily Challenges for Everyone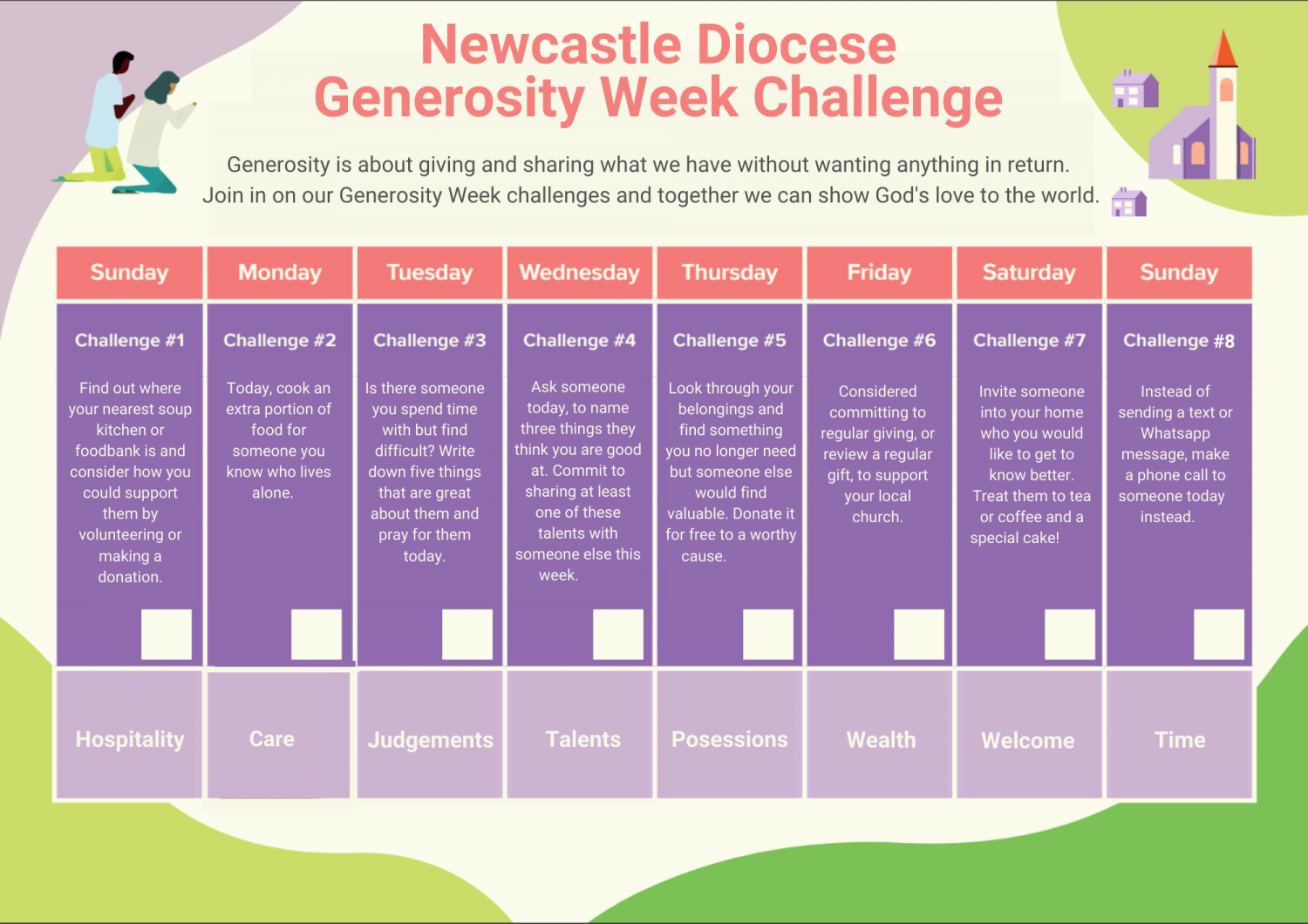 Download Generosity Week Challenges for Everyone
Exploring Generosity in the Wider Community
Generosity Week is a celebration of God's generosity that is lived out in our churches and parishes. In this guide you can find ideas to help you to engage with and support the wider community as we celebrate the generosity found within in.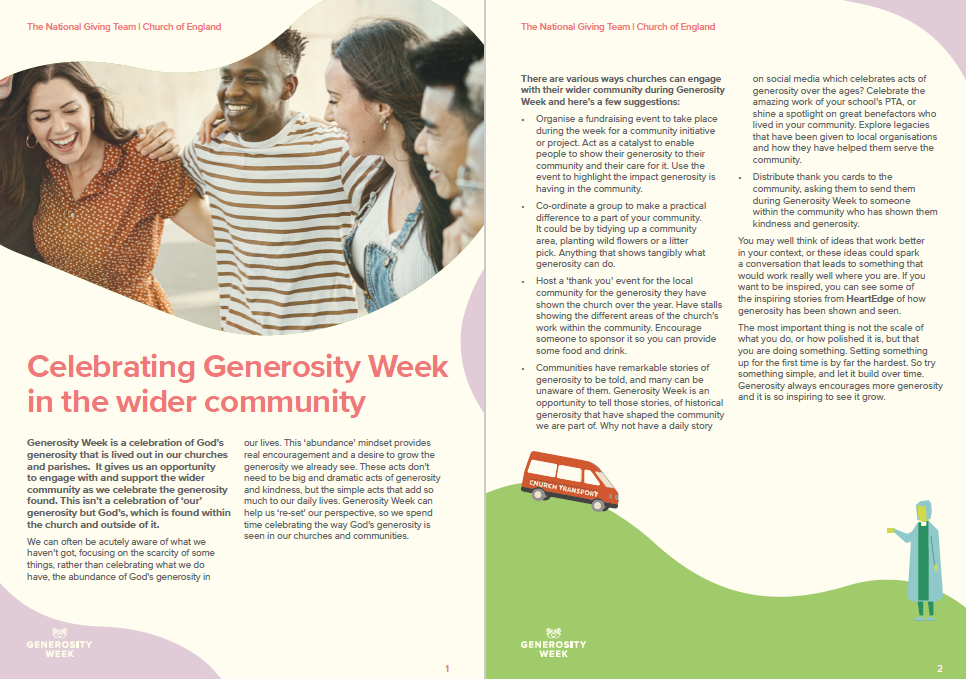 Worship Material
Giving Ministry Adviser, Dennis Fancett, pre-recorded two talks suitable for use at during Generosity Week services. One is based on the passage 1 Timothy 6 and our calling not to put our hope in wealth, "Walk the Other Way." The other is a more general story based reflection on generosity in its broadest sense, "Because God's Been Generous to Me."
Additional worship material is also available to download. This covers two Sundays (the first to celebrate generosity and the second to celebrate gratitude), as well as morning prayer services for each of the 8 days. You can choose to download traditional eucharist material, traditional service of the word material and service content packs. Also available are special Generosity Week versions of compline and evening prayer.
Contact Dennis for Recordings or to Request a Visit
Click to Download Worship Materials
Encouraging Financial Generosity
Please visit our Reviewing Giving web page or contact a member of the Generous Giving Team for more comprehensive support and detailed data analysis for your parish. You can also download our Parish Share Booklet which explains the concept and importance of this system of mutual support in our diocese. For hard copies please contact the Generous Giving Team.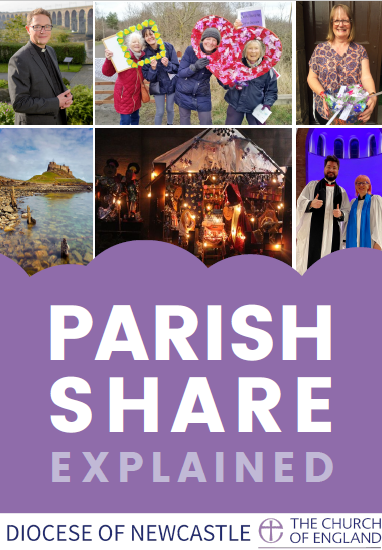 Podcast Series
A podcast series created for National Generosity Week created by the National Giving Team, features a different person sharing a short passage of scripture and a key verse from the Old and New Testament. They reflect on what it means in their Christian life and encourage the listener to do the same.