A round-up of some inspiring stories from around Newcastle Diocese - helping keep communities safe
---
7 April 2020
From Lynne Angus and Val Sim, Churchwardens at St Ebbas, Beadnell
Our vicar, Canon Tony Macpherson, who looks after St Ebbas in Beadnell, St Pauls in North Sunderland and St Maurice's in Ellingham is providing morning and evening prayers and reflections via the internet (with some lovely music).
For those who are not connected to the internet he has created worship packages of service sheets, readings and cards. These have been delivered to everyone on the Church Rolls and to others within the area and are greatly appreciated. He is also one of the contact points for requests for help from the community and has created a list of volunteers who may be contacted if anyone needs something. He is also collecting prescriptions as required by the housebound.
Tony is helping to let our communities know that the Church doesnt need its doors to be open for Christ's message to be given. His efforts are greatly valued within Beadnell and beyond.
3 April 2020
From Caroline Waitt, Churchwarden at St Aidan's:
Our rector Rev Dr Susan Ramsaran suggested we set up a telephone tree to keep our church congregation in touch and not isolated, and suggested we grow the tree out into the community which I did and in the process gathered information about what was going on and how some services had developed restaurants starting delivery takeaways and the local fruit supplier to restaurants offering local deliveries to households who were isolating (this was changing daily? but I then emailed the info out to our church group and our community website Tarset Community Website.
I also offered to collect groceries and prescriptions if needed. When I handed the flyer into the local chemist he asked if we could do it for the parish as Bellingham was doing this which I agreed as I already had people on the telephone tree offering to help in any way. So we are now able to cover the whole area and collect and deliver groceries and prescriptions as well as having a brief chat to people as we do so. The church in action!
30 March 2020
From Northumberland Church of England Academy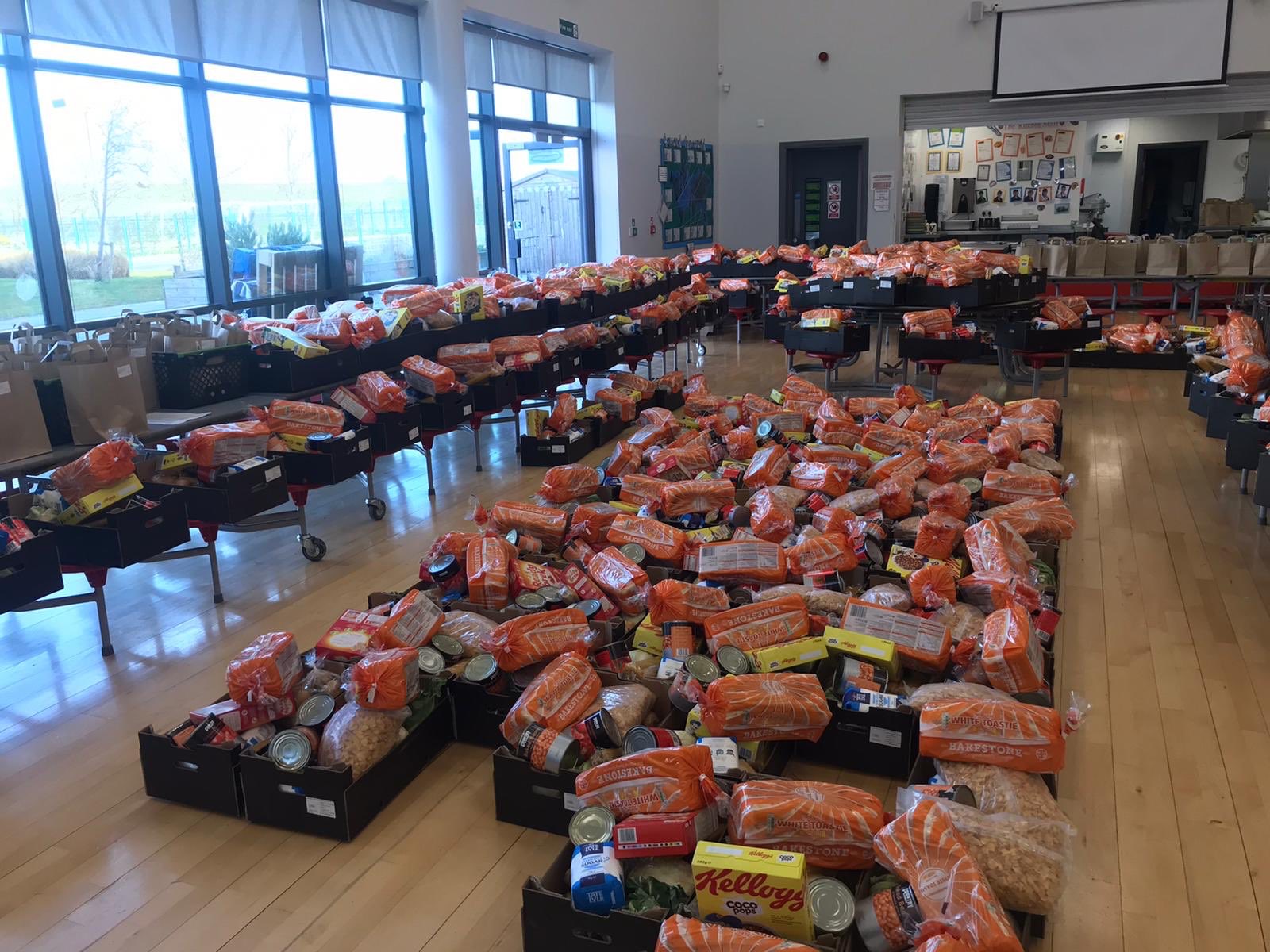 Today, the school delivered 818 care packages with a week's worth of food to our pupils who receive free school meals. This was a massive undertaking and the result of a huge amount of work from catering teams, site staff, campus teams and many colleagues at each campus who volunteered to help. They were also supported by our parish clergy, Full Circle Food and local taxi firms who are contracted by Northumberland School Transport Service - a real community effort.
As you can imagine, there was also a huge amount of planning behind the scenes. Many of the staff were in early to prepare the boxes and get them ready for delivery and we would like to say a huge thank you to everyone who played a part in getting the food to those in our community who really need it.
Many thanks go to all school staff who continue to provide childcare for key workers and vulnerable children and everyone working away at home.
28 March 2020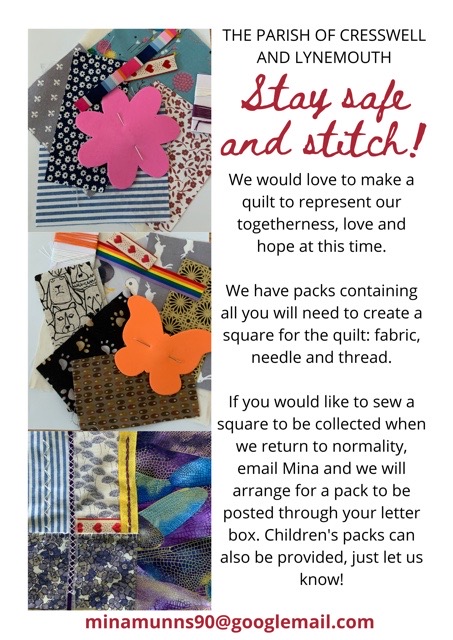 The Archdeacon of Northumberland, the Venerable Mark Wroe featured in St Thomas' first ever video service.
A thoughtful message posted on 20 March by the Reverend Robert Lawrence, St Francis Newcastle:
Many of our churches, including our Mother Church Newcastle Cathedral, are streaming services either live, or which have been prerecorded. It is a wonderful way of continuing to worship together, even though we we are required to be apart.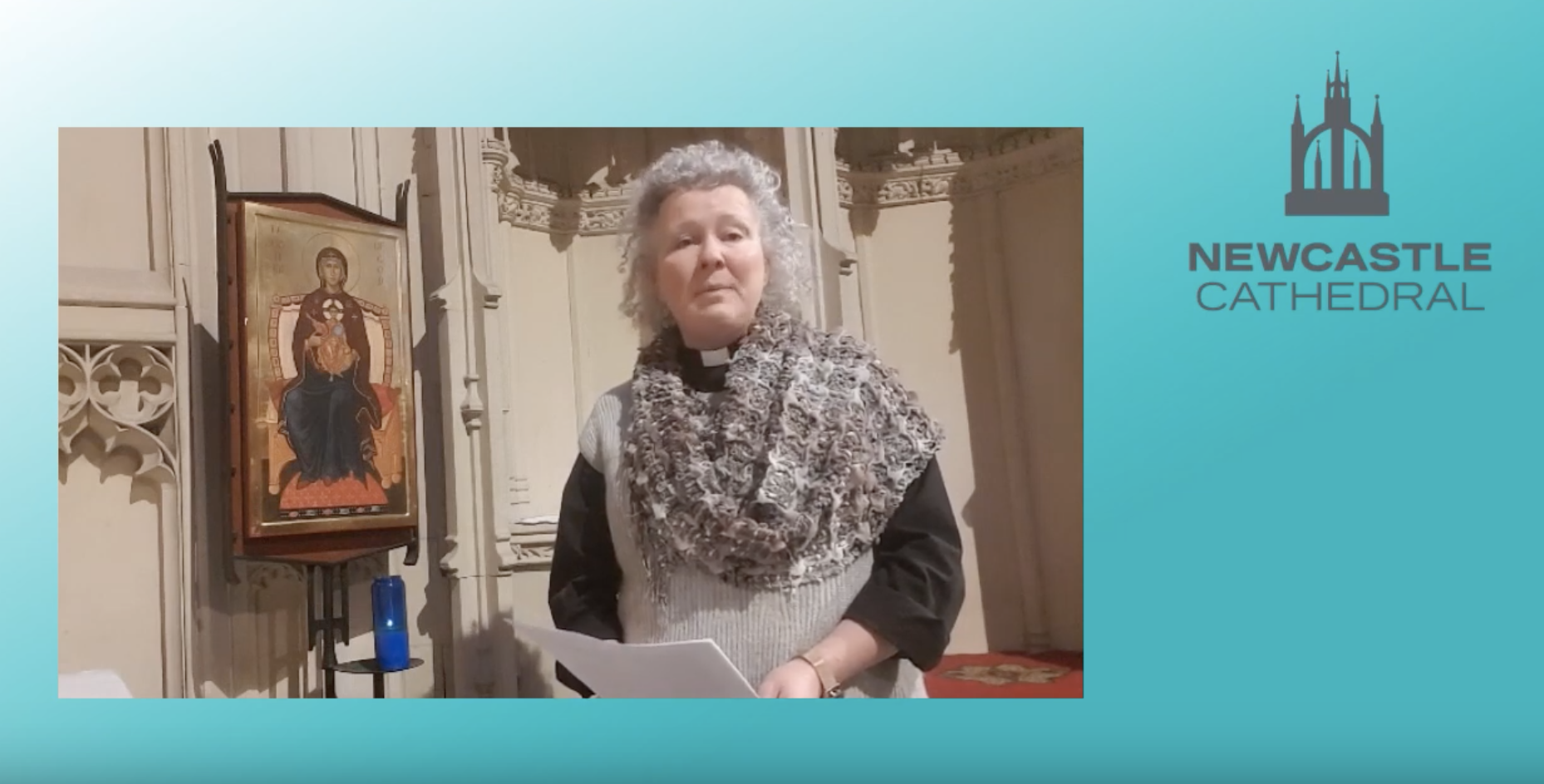 From the Revd Tim Mayfield, sent on 19 March
On Tuesday a team from St Albans Earsdon went out leafleting in their parish, offering support to any who were self-isolating.
Someone who received this leaflet passed the vicars phone number to a friend who works at The Odeon, Silverlink.
The Odeon was temporarily closing, and had some food it didnt want to throw away. The Odeon employee phoned the vicar [Tim Mayfield] to see if he had any ideas about how this food might be used.
Tim Mayfield emailed Deanery colleagues, and Community Missioner Adam Gray suggested the food be given to the Cedarwood Trust, working on the Meadowell Estate in Newcastle.
One of the leafleters went to the Odeon and collected the food. Tim Mayfield passed it on to Adam Gray, and it reached people who could benefit from it.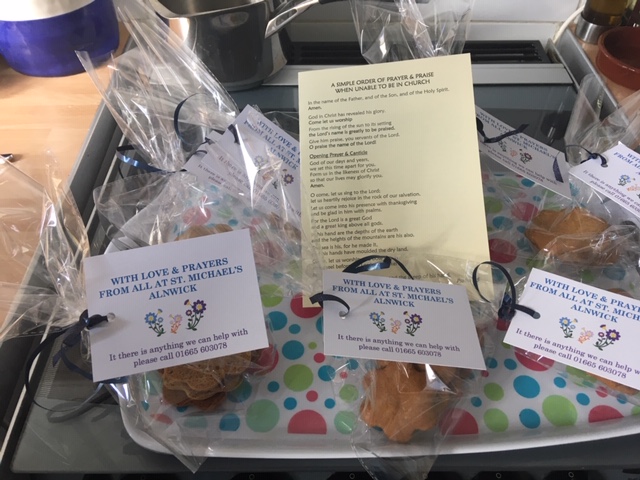 From the Revd Paul Scott, Alnwick, emailed on 20 March:
Last Sunday, in anticipation of being unable to worship together, at St. Michael's, Alnwick, we put together a short act of worship that people might be able to use in their homes and handed these out as folk left church. This was greatly appreciated and we have had lots of positive 'phone calls about this. Since the news that public worship has to be suspended broke we're now ensuring that those who missed church last Sunday have a copy of this and we've also uploaded it on our parish website. We've also marshalled ourselves and have baled lots of ginger biscuits and are delivering to as many of the church family as possible. Many folk have been visibly touched by this and one lady 'phoned to say that such an act of caring made her feel like a 'real parishioner'. We had already sown lots of coleus seeds with a view to selling them for church funds but, instead, 'round two' of our acts of caring in the next week or so will be to distribute these little plants so that the restrictions of self-solation and social distancing might be lessened just a little as people care for their plants and watch them grow.